"How To" Construction Manual Preparation Guide to help you develop and implement your construction company's Policies and Procedures manual.
Construction Company Policies and Procedures Templates
A construction operations manual with easily editable construction company policies and procedures manual templates will clarify your construction jobs. This construction policies and procedures supplement includes prewritten MS-WORD policies, procedures & forms for easier construction company management, and comes as an easily downloadable file.

Construction Company Operations Manual
This supplement will assist construction companies and related firms in preparing a Standard Operating Procedures (SOP) Manual for their small to medium size construction businesses. It can be customized to fit your office staff and work crew operations.
Accounting Manual for Construction Company
The content provides a good start for writing an Accounting Manual for construction company. It includes cost control, progress billing, and construction purchasing. The Employee Handbook is a great beginning for a Human Resources Manual.
Learn how to manage all aspects of construction operations including estimating, contracts, planning and billing and more with the Construction Company Operations Procedures Manual.
Construction Company Policies and Procedures Manual
This Construction Operations Manual includes a Construction Company Policies and Procedures Templates covering 12 important aspects of a construction project management including:
Carpenter Job Description
Carpentry Supervisor Job Description
Cement Mason Job Description
Civil Engineer Job Description
Construction Manager Job Description
Electrician Job Description
Emergency Management Director Job Description
Engineering Manager Job Description
Environmental  Coordinator Job Description
Industrial Engineer Job Description
Machinist Job Description
Mechanic Job Description
Manufacturing Manager Job Description
Mechanical Engineer Job Description
Production Manager Job Description
Production Maintenance Job Description
Construction Operations Manual Download
The construction operations manual comes with 43 easy-to-edit Microsoft Word document policies, procedures, forms, and construction employee manual templates covering over 100 pages of content, combined into a convenient downloadable zip file. It is an excellent add-on to the Bizmanualz Business Policies and Procedures Sampler.
Take advantage of this special building package and start saving yourself the time and money to develop your construction company policies and procedures manual.
DOWNLOAD Yours Now. (DOWNLOAD ONLY)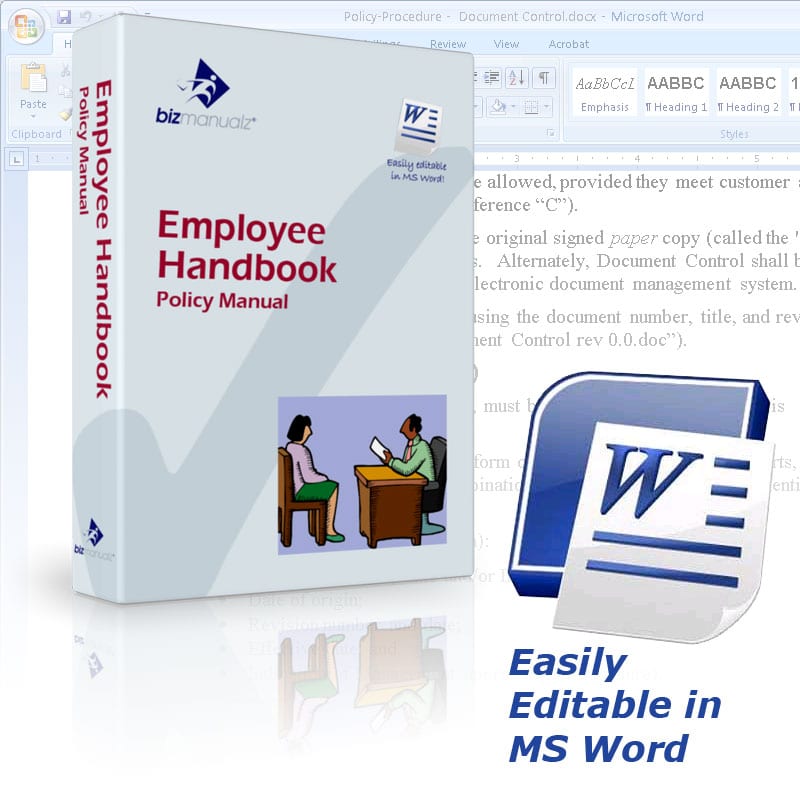 One Construction Company Employee Handbook
Your Construction Company Employee Handbook contains your construction employee policies. It is your construction company's way of informing employees of various expectations, privacy practices, construction worksite guidelines, and the fair and equitable treatment of all construction employees.
Your Construction Company Employee Handbook covers all aspects related to construction workplace employment, benefits, and everyday employee code of conduct.