Medical Office Policies Procedures Manual | Bizmanualz
$ 99.99
Medical Office Policies Procedures Manual
Develop your Medical Office Policies Procedures Manual quickly and easily using editable Word templates. This DOWNLOAD is an excellent add-on to the Bizmanualz Business Policies and Procedures Sampler. It includes prewritten MS-WORD  Medical Office Policies and Procedures Manual Template with forms templates for any medical office manager. DOWNLOAD Yours Now.
Instant Medical Office Policy and Procedures
This Medical Office Policies and Procedures Manual Template was developed to assist medical office managers in preparing a Medical Office Standard Operating Procedures (SOP) Manual for your small to medium size medical practice. It can be custom tailored to fit your front office staff and operations.
The content also supplements Bizmanualz core SOP business procedures manuals for Accounting or Human Resources.
Medical Office Manual Table of Contents
How to Create an SOP Standard Operating Procedure Template
 Download a Medical Office Policy and Procedure Manual for Your Medical Practice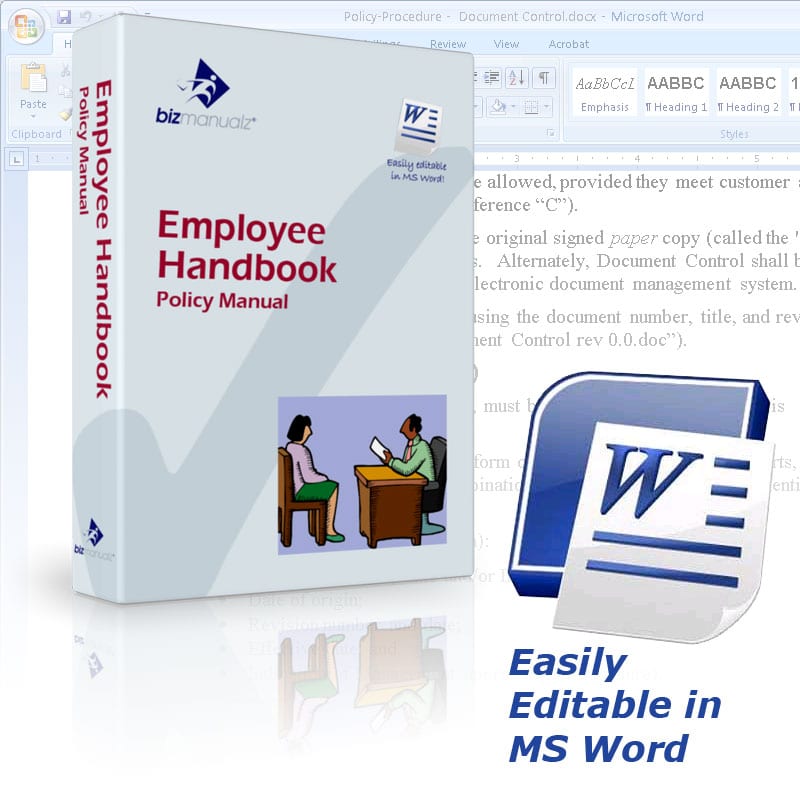 Improve all aspects of your medical office policy & procedures, including new patients, billing, staff, vendors and supplies. Save time using prewritten Word Templates.
Your Medical Office Manual Includes
1 Medical Office Employee Handbook
Your Medical Office Employee Handbook contains your medical practice policies to your employees. It is your practice's way of informing employees of company expectations, privacy practices, workplace guidelines, and the fair and equitable treatment of all employees.
Your Employee Handbook covers all aspects related to workplace employment, benefits, and everyday employee code of conduct.
9 Medical Office Policies and Procedures
9 Medical Office Forms
9 Medical Practice Job Descriptions
1 Medical Office Organization Chart
The Medical Practice Organization Chart is developed in MS-Word and can be easily edited to reflect your physician office practices, job functions, and governance reporting structure.
Download a Free Medical Office Policy Procedure Sample
Examine for yourself a free sample from the medical office policy manual. Then…
Order Your Medical Office Policies and Procedures
The Medical Office Policies and Procedures Manual Template comes with ten easy-to-edit Microsoft Word document template files, available as a convenient downloadable file. Take advantage of this special package and start saving yourself the time and money to develop this material. DOWNLOAD Yours Now.
FAQs
Why is the Office Policy and Procedures Manual important?
What makes the medical office policy and procedures manual important is because it lays out the rules, regulations, and guidelines for the medical office staff.
How often should hospital policies and procedures be reviewed?
Hospitals should review their policies and procedures annually. Policies and procedures are living documents that grow over time and have to adapt to the changing environment. Outdated policies leave your company or organization at risk to governing laws.
What is SOP healthcare?
SOP in healthcare are written instructions, or rules, to achieve a specific goal. By repeating the same process, you are giving yourself the best chance of achieving the same end result. In healthcare, this is critical to maintaining a well-organized and good practice.
Related products
Rated 4.47 out of 5

$

495.00