Use Lean Thinking Methods
Continuously improve customer satisfaction, on time delivery, and Cost of Quality to become more successful using lean thinking methods JIT and Jidoka.
Obtain ISO Certification
Build a Quality Management System quickly, easily, and painlessly using experienced ISO facilitators through our ISO certification classes.
Quality Help from Quality Experts
You can rely on us for expert Operational Excellence Leadership, timely support, and convenient service delivery options; all based out of Saint Louis, Missouri.
Implement an ISO QMS FAST
Our ISO certification classes use experienced Lean ISO Consulting Training to implement the ISO 9001:2015 Standard as a Lean Quality Management System (QMS) will improve your business, make your organization more effective, and therefore more competitive.   While ISO Certification is a lofty goal, a Lean ISO implementation is worth far more than just getting certified. (See "Top Ten Reasons Why You Need ISO 9001").
REACH YOUR GOALS WITH AN EXPERT BUSINESS PROCESS COACH
Bizmanualz consultants have the knowledge to build Lean ISO Quality Management Systems that get results FAST.  At Bizmanualz, we have helped a number of small to medium sized businesses with ISO 9001 implementation–move from having no real QMS to becoming ISO 9001 certified in as little as three to six months.
We have experience with ISO 9001 Quality, ISO/TS 16949 Automotive, AS 9100 Aerospace, and ISO 13485 Medical Device standards. We can help you achieve your goal of quality.
BIZMANUALZ LEAN ISO 9000 Help
We start ISO 9001 consulting lean management training projects by evaluating your company's core business processes and establish clear metrics and objectives for each process (ISO 9001: clause 4).
Next we work with you to align your customer's needs (voice of the customer) with your company's quality policy (ISO 9001: clause 5), and objectives (ISO 9001: clause 6) as well as your resources (ISO 9001: clause 7).
Next we align your production and service provisions (ISO 9001: clause 8) to conform with Good Manufacturing Practices (GMP).
And finally, we work with you to develop continual improvement, or conduct occasional internal audits to keep you on track (ISO 9001: clause 10).
How a Lean ISO QMS Implementation Helps You
Colliers Turley Martin Tucker (CTMT) is one of the nation's most successful real estate and facility management companies, but their responsibilities at an IT data center facility for a prominent finance company in St. Louis exceeded their typical duties. For this client, CTMT had to meet very strict requirements to prevent power outages, as well as reduce human error.
NEED FOR ISO CERTIFICATION
For CTMT's client, a loss of processing ability or information is simply unacceptable. The task of ensuring that the data center did not lose power fell to the CTMT Data Facilities Team led by Senior Manager John Scheer and Data Center Manager Chris Wanger. How could they improve on a system that was already very effective? They didn't want to wait for a system failure to learn where they were vulnerable.
ISO APPROACH
The facility managers at the site determined that the best option for maintaining control of the critical area was to institute a Quality Management System like that specified by ISO 9000. Instituting a Lean ISO Quality Management System would help them assure that they were assessing risks and addressing the critical areas needed to reach their goals and satisfy their customer.
CTMT called on Bizmanualz Consulting Training to help them evaluate their current internal control systems and to plot a course for implementing an ISO Quality Management System. They needed a system that fit their particular needs and that would lead them toward ISO 9001 Certification.
LEAN ISO SOLUTION
CTMT began their consulting and training journey in early June, and by early that December they had become only the second data center facility in the U. S. to achieve ISO 9001 Certification.  "While they were meeting their goals, putting an ISO 9000 Quality Management System in place raised their level of confidence significantly?" said Steve Mundwiller, the Lead Project Consultant from Bizmanualz. "They are more in control and more prepared, and therefore more capable of fulfilling their responsibility."
BUSINESS RESULTS
For CTMT, being ISO 9001 certified meant more consistent and recorded preventative maintenance. The required routine power system checks were now well-documented, and a training program ensured that team members were aware of, and used, procedures and forms.
Company managers that see ISO 9001 Certification as a piece of paper to frame and hang on the wall are missing an opportunity to improve. A quality management system can be more than checks and controls; it can be a system of continual improvement that institutionalizes learning and propagates innovation. CTMT used ISO 9001 Certification to not only feel more confident about being able to satisfy their customer now; they used it to ensure that they would only get better in the future.
ISO Quality System Implementation
Implement a full Lean Quality Management System anywhere in the St. Louis area for your business with less overhead than a traditional ISO quality system using proven lean principles. It is a lot easier than you think to create a lean ISO quality system. ISO registration is pretty straight forward once you introduce lean thinking into your organization.
Add kaizen improvement events for your corrective and preventive actions, standard work to create leaner and more agile procedures, define your processes with value stream mapping, a management dashboard to track your quality objectives, and a quality policy that is focused on your customer. Starting with lean thinking makes getting an ISO 9001 quality system a lot simpler.
 St. Louis Quality Consulting
Achieve faster growth, and increase your company value, using Lean ISO quality consultants based in Saint Louis, Missouri. Bizmanualz has implemented quality systems using ISO 9001, AS 9100, ISO 13485, and ISO 16949.  Contact us to find out more.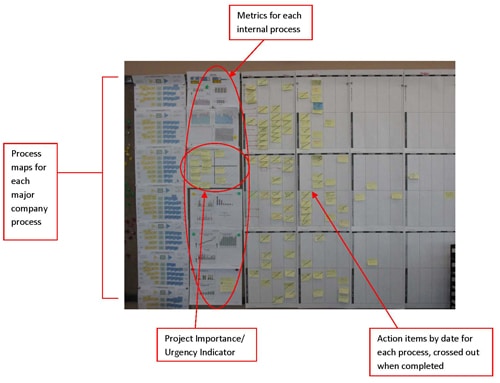 Lean Implementation Services
Lean Transformation * Value Stream Mapping * 5S * A3 * 5 Why * Kaizen * SMED Setup Reduction * Kanban * Total Productive Maintenance-TPM * Just In Time-JIT * Takt Time * Level Flow * Overall Equipment Effectivess-OEE * Standard Work * Visual Control * Lean Daily Management System-LDMS * Management Kata * Lean Throughput Accounting * Theory of Constraints
Example Process Improvements – Manufacturing  
Eliminated 2nd shift work center through one week Kaizen event of a powder coat line. Applied 5S, waste elimination, work cell redesign, ergonomic changes, visual management, Kanban, and setup reduction.
Reduced CNC machine setup 70% from 4 hours to 1+ hours through setup reduction, waste elimination, standard work, work cell redesign.
Recovered 50% of floor space using value stream mapping, process mapping, process design, visual space analysis, material flow analysis, and throughput accounting to determine wasted floor space.
Reduced order backlog over 50% using visual management dashboards, frequent management huddles, and regular improvements using A3 methods to identify barriers to flow. Future results included headcount reassignment from high productivity areas to lower ones to improve bottlenecks and reduce delays.
Developed numerous visual management dashboards with key metrics for business process analysis for all key processes. Each dashboard process included a process map, 3-4 key performance indicators (KPI), KPI run charts to identify gaps, and action item tracking for recommend action plans with timeline to evaluate ongoing effectiveness. Used short periodic huddles for collaboration to achieve results.
Developed Kanban's for supply chain replenishment leveling flow using EOQ modeling for reorder rates, working with large customers on their order patterns, and vendors on raw materials.
Example Process Improvements – Office
Reduced Corrective Action Handling 50% using root cause corrective action training, 3-legged 5 why, defining key work skills/training, and a new management escalation process.
Supported a 50% increase in sales by redesigning distribution channel using clear criteria for territory management, new dealer management, sales process, order installations, and post-sales follow-up.
Supported a 50% increase in sales by streamlining production scheduling, introducing order metrics & Kanban's, choke-releasing materials & orders, reducing number of vendors, adding visual management, and defining key work skills/training—all with minimum headcount increase.
Identified waste in long sales cycle that resulted in more than 25 changes to an order over 90 days by redesigning order process and streamlining communication.
Reduced customer order lead time 70% from 2-3 weeks to 2-3 days by redesigning order process/form, identifying missing information, and streamlining communication.
Reduced technical support order volume and staff by 50% by increasing communication regarding recurring technical issues. Rotated software developers through technical support, developed technical notes (work instructions) for common problems, introduced knowledge/support database to collect better data on issues, and trained staff.
Reduced shopping cart abandonment by streamlining cart order process with fewer steps/clicks, presenting shipping information sooner, providing more payment options, and improving assurances (security, returns, and guarantee).
Obtained two improvements per employee per month versus closer to one improvement per employee per year.
Eliminated extra paperwork in accounting by changing 5-part form to 3-part form through one day Kaizen event.
Lean Quality Management Plan
Lean cuts the waste to maximize capacity, improve cash flow, and deliver customer satisfaction. A lean supply chain responds faster to customer demand. Lean thinking employees are happy and more motivated.
Lean ISO Consulting Training
Customized quality process improvement training classes are available for your in-house project or at the Bizmanualz offices in Clayton, MO.  Take advantage of lean management training for:
Building lean thinking
ISO internal auditing or lead auditing
Quality process improvement methods
Developing policies and procedures
Business is a Continuous Process
Developing well-defined business processes requires consistent, repeatable events that can improve over time, on their own by aligning with the customer's needs.
Over the years, we have observed common behaviors described in a set of guiding principles used to develop strategic improvements:
Visible production plans and conditions define a productive company.
Visible equipment status, defects, and production instructions all clearly displayed. Work In Process (WIP) should not block views and materials handling is streamlined. Work areas are clean, orderly, and well marked.
Employees determine productivity.
Analysis of employee work content is essential. Equipment will not operate properly without employee work instructions, regular training and updates.
Employees involvement in improvement determines success.
Only the employees know the details of their problems. Projects do not require large investments, but rather small groups implementing simple changes with small budgets, based on their own ideas that effect root causes and drive cumulative results.
Inventory and delays result mostly from Internal causes.
Inventory and delays accumulate due to several causes such as: WIP or time buffers being used to compensate for capacity shortages; self-fulfilling long lead times used in scheduling assumptions; long changeover or project set-up times directing long installations; and inefficient supply chains driving inventories.
Bizmanualz can show you how to save time in developing processes, how to lean out your organization, increase process capability, and reduce the risks associated with non-compliance.
Specialties: Strategy deployment policies, procedures, processes, lean, six sigma, quality management, ISO 9000, training, consulting, and auditing.
Get Started Obtaining ISO Certification
Call to learn how to get your company certified to ISO 9001 or learn how to transition to the latest ISO 9001:2015 standard.