How to Write a Standard Operating Procedures (SOP) Template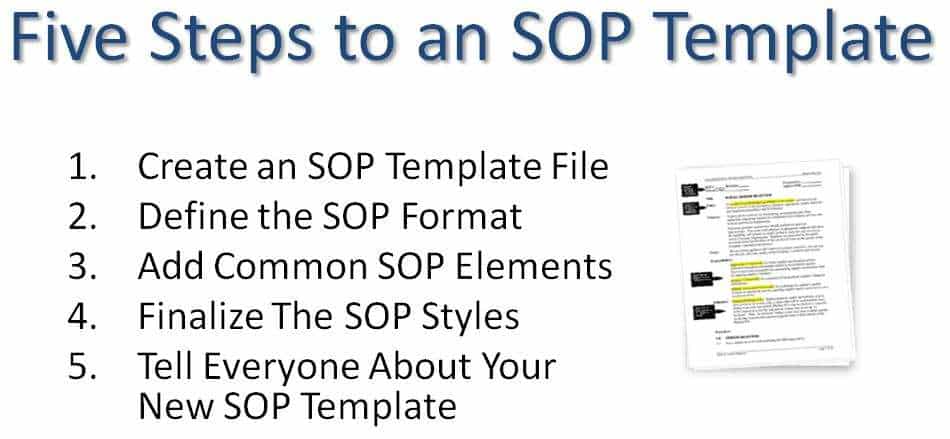 Writing Standard Operating Procedures, also known as an SOP template, will allow you to standardize your procedures, get started quickly, and provide fast, easy answers to common Standard Operating Procedure (SOP) questions. An SOP template will communicate to everyone the procedure format you want to use. It will provide a handy starting point so you don't have to stare at a blank page. And will save everyone a lot of time selecting the font, margins, outlining, and answering questions about your company SOP structure. 
Why Write an SOP Template?
SOPs are used within a variety of industries ranging from manufacturing (for ISO 9000, AS9100, ISO/TS16949, OSHA), health care (JCAHO, ISO 13485), FDA (ISO 22000, GMP), Information Technology (ITIL, ISO 20000, CoBIT), accounting (Sarbanes-Oxley, GAAP, IFRS), or Human Resources (ADA, FMLA, EOE, FSLA, etc). In fact, so many industries use standards that there are too many to list. The world is awash in standards.
Using accounting SOP as an example, when you use our accounting policies and procedures manual you will easily be able to add in your own company's policy on keeping records, but keep the standard policy on returned goods, or vice versa.
Procedures Are About Business Processes
Perhaps if everything always executed as planned then we would not need procedures, but this is not the case in the real world. An SOP or Standard Operating Procedure is used to ensure business processes are well thought through.
Each task in a process is performed the same way every time, and important data is recorded, along with errors or deviations so corrective action can be taken. When we use procedures we allow ourselves to learn.
Procedures Are About Learning
We use procedures to plan out process expectations (Plan), collect data (Do), check the data against our expectations (Check), and then take corrective action (Act) on what we have learned. This is the learning loop or PDCA in action. PDCA is the basis of process learning.
Standards are developed to shorten the learning. Why wait for people to get hurt in the factory? OSHA Standards foster safety learning. OSHA SOP procedures communicate safety expectations. OSHA maybe for safety yet the same principle applies to all other standards or regulations. Standards are intended to speed up process learning.
Five Steps to Writing an SOP Template (Using SOP Accounting as an Example)

Create an SOP Accounting Template File
Define the SOP Format
Add Common SOP Accounting Elements
Finalize The SOP Styles
Tell Everyone About Your New SOP Template
Microsoft Word SOP Templates
First, create your SOP Template in MS-Word. Most people Create a Standard Operating Procedure Template in Microsoft Word, but you could also use OpenOffice or another word processor. Give it a common name like "SOP Template" for example.
Download the MS Word file: "Standard Operating Procedure Template" we have created as a start to developing your own template for policies and procedures.
SOP Control Block
Second, start your SOP format with a control block, header, and footer.
The control block can be a simple 3 x 4 table, which is used to house the document control information required for configuration management and compliance standards (see Procedure Document Control Table).
Procedure Header and Footer
Your header prints in the top margin and is a good place to put your company name.
Your footer prints in the bottom margin and is a good place for the name of your procedure and page numbering.
SOP Format
Next, setup a basic procedure style guide for your SOP format or structure (see example SOP Template) to include:
Procedure Elements
Policy: [What is the mission or standard that this procedure must meet?]
Purpose: [What is the rationale of this procedure?]
Scope: [What areas of the company are affected by this procedure?]
Responsibilities: [Who is listed in this procedure and what are they required to do?]
Definitions: [What words are used in this procedure that readers may not understand?]
Procedure: [What are the activities and tasks or steps to this procedure?]
Effectiveness Criteria: [What is important to measure?]
References: [What references support this procedure?]
Revisions: [What changes have occurred since publishing this procedure?]
SOP Template Complete
Finally, finalize the styles and fonts you want to use, any bolding or special treatment, and the margins you want to standardize on.
Publish Your SOP Accounting Template
Publish your SOP accounting template on your local server. Now that it is published you will need to let everyone know that you have completed your Standard Operating Procedure Template that you want everyone in the company to use for every procedure that is written. That's it. Standards speed up learning within various industry segments just like SOP Accounting Templates speed up learning what to write.
Many business processes share the same characteristics. And while not all business processes are exactly the same, many are similar enough to learn from and model to write your own procedures for your business. SOP Templates provide a standard starting point. So the real question is Why NOT Use SOP Templates. Using procedure templates save time, provides an opportunity to learn from experts, and helps you meet various standards, fast.
Procedure templates from Bizmanualz provide a consistent writing style across departments. Review free policies and procedures to see for yourself how easy and fast it is to customize the MS-Word templates for your business. No other company provides a complete set for your whole company.
6 responses to "How to Write a Standard Operating Procedures (SOP) Template"