What is the Impact of Digital Transformation on Business?
Digital transformation is a popular term that gets tossed around a lot these days in virtual meetings and around conference tables. It is definitely a factor affecting business growth, which means it's not something you should ignore,. You need to take these new digital trends seriously. What is the impact of digital transformation on business?
5 Ways Digital Transformation is Pushing Modern Businesses Forward
Digital transformation is a very powerful, industry-altering trend, encompassing a wide range of tools, solutions, and best practices. Just like artificial intelligence in a small business, these solutions and practices aim to minimize your financial expenditure, elevate productivity and output, and boost your operational efficiency.
On the other hand, you also have the external benefits of digital transformation, aimed at building customer satisfaction, boosting their omni-channel experiences, improving data security, and more. In a nutshell, digital transformation is pushing the modern business world forward in many different ways, and now's the time for you to get on board.
There are also many ways you can kick-start digital transformation in your business, from building an app to automating certain processes, and all the way to creating a complete digital transformation roadmap. Let's take a look at how digital solutions are pushing modern companies forward, and how you can capitalize on the trend yourself in 2022 and beyond. 
Leveraging AI for Big Data Analytics
The modern business world runs on industry, market, consumer, and all other kinds of important data. From monitoring socio-economic fluctuations to forecasting shifts in the consumer mindset and predicting future global crises, the leading brands in the world leverage big data analysis to spot change ahead of time. This allows them to prepare well in advance and put the best solutions in place that will support growth and financial stability over the long term.
However, it's important to note that big data analysis is only possible with the help of AI and machine learning systems. Manual data analysis is virtually impossible due to the sheer amount of consumer and market data flowing around in the online world. It would take significant time, effort, and financial investment to manually collect and collate so much data, which is why it's important to invest in an AI-powered solution.
This is one of the best ways that digital transformation can help business leaders future-proof their brands. 
Automating Repetitive and Menial Tasks
Automation is another popular buzzword that might get tossed around a lot, but that doesn't make it any less important in modern business. As a subset of digital transformation, automation is a valuable solution to time-consuming, resource-intensive tasks and processes, no matter the industry you're in or the size of your company.
Nowadays, there is an automation solution for almost any process, task, project or department in any company. An auto body shop owner can automate the estimation process with sophisticated diagnostics tools just as easily as a leader in a fortune 500 company can automate customer support with an AI-driven chatbot.
The possibilities for automation are numerous nowadays, and you can choose to automate menial tasks but also more complex processes if you invest in smart solutions. As a small business owner, though, you should focus your automation on digital marketing processes, lead nurturing and email marketing, sales processes, and customer service.
Identifying Key Digital Transformation Needs
Digital transformation can be a cost-intensive process, and business leaders need to prioritize their needs and make smart financial investments when it comes to introducing new tech solutions. For you to conduct a successful digital transformation, you need to have a long-term roadmap that will help you prioritize your investments and maximize the potential of each new piece of tech.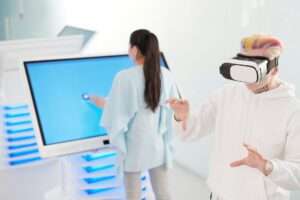 Ask any experienced leader in the industry and they will tell you that introducing new technologies requires careful planning and strategizing. This is exactly what the specialists behind the HTEC Group focus on when creating digital transformation roadmaps, as these industry leaders realize that small businesses can only leverage new technologies with strategic implementation.
If you don't have the internal resources to create a digital transformation strategy yourself, make sure to work more closely with the leaders in the industry in order to maximize your investment and avoid the common pitfalls. 
Using Cloud Technology to Achieve Better Results
Migrating to the cloud is one of the essential elements of a good digital transformation strategy, as you want to capitalize on all the tools and solutions that cloud technology brings to the table. There are many benefits to migrating your operation to a cloud platform, including lower financial expenditure, higher operational efficiency, better data security, better collaboration and communication between teams, and more.
The key is to choose a reliable cloud service provider with a proven track record. Amazon, Google, and Microsoft are all in the cloud computing game right now, but you can also find many other amazing providers that can scale and tailor their plans to your exact needs. The best part about cloud computing is that it's scalable, as it allows you to seamlessly add resources and applications to your data centers and scale your entire digital operation efficiently and effectively. 
Using Digital Tools for Omni-Channel Strategies
Last but not least, consider the fact that modern technologies, especially cloud-based solutions, can help you bring amazing omni-channel experiences to your customers. The modern customer wants and needs to interact with their favorite brands across the online world, and they want to be able to communicate with you on their terms.
This means that they want you to make yourself available on social media for direct communication via chat, but it also means that you need to start using more sales channels. The right technologies can help you manage all sales, marketing, and communication channels from a single platform, so that you can boost customer satisfaction and retention with ease. Consider integrating something like an ERP system (enterprise resource planning) to better manage your omni-channel operation. 
Digital Transformation is Pushing Business Forward
Digital transformation is a key element driving organizational performance and success in modern business, but that doesn't mean that you should simply start investing in every new tool and solution out there. Instead, you should create a strategy that will outline the best solutions for your specific needs. What's more, make sure to consider the solutions we talked about today in order to start future-proofing your company.