Writing a policy manual provides important information on company policies relating to business processes, employee expectations, and organizational standards for performance. When writing a Policy Manual, think of it as a top level document to reference individual policies and associated procedures that support each policy.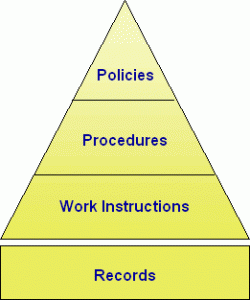 Policy Manual Purpose
The purpose of your Policy Manual is to document the principles and policies governing your Company's department practices. When consistently applied throughout the Company, these principles and policies assure that the various reports and records issued by the Company accurately reflect operational results.
The principles and policies provide:
The basis for an internal controls system.
Criteria and guidance for business process decision making.
Direction and guidance to ensure transactions, procedures, and records are uniform throughout the Company.
Internal controls provide a system of checks and balances intended to identify irregularities, prevent waste, fraud and abuse from occurring, and assist in resolving discrepancies that are accidentally introduced in business process operations.
All additional departmental or functional policies and procedures should conform to the policies in your manual.  All changes to policies and procedures must be reviewed to ensure that there are no conflicts with the policies stated in your Policy Manual.
Writing A Policy Manual
To assist you in writing you own policy manual for your company, we have include example policy manuals within many of the Bizmanualz Policies and Procedures Manual products:
Accounting Policies Procedures
Finance Policies and Procedures
Human Resources (HR) Policies Procedures
Information Technology (IT) Policies Procedures
Sales & Marketing Policies Procedures
ISO 9001 Quality Procedures
ISO 22000 Food Safety Procedures
AS9100 Aerospace Procedures
Each sample Policy Manual covers the common requirements and practices for the business area. The samples provide an example of policy manual wording that might be used for your own business.
The sample wording will be helpful in generating ideas for writing a custom policy manual for your Company.  However, company policies should be drafted as appropriate and necessary to accurately reflect your Company's unique requirements and standards.