What are the Best Team Building Activities for Work?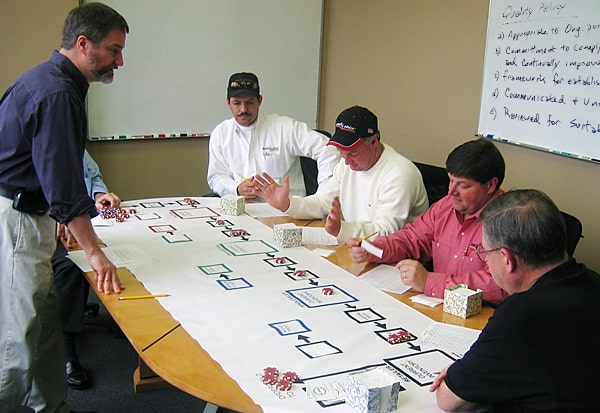 We've all been through the wash a little this year. The strains of the year were felt all over, especially with many workplaces shifting to remote work. We're not out of the woods yet. But some offices and places of work are returning to their previous buildings. For when that happens, what are the best team building activities for work, in the post work-from-home period?
6 Team-Building Exercises For Post Work-From-Home Period
In the new light of day, rekindling a strong, in-person team dynamic is vital. For instance, a company in the education niche which provides an essay writing service for students in need, recently reached out and had a conversation about their team's resilience and what is different now that people are back working face-to-face.
These relationship building activities work for almost any office or workplace. We've also factored in that some people, by necessity, will still work remotely and need inclusion via Zoom or another platform. In current times, activities and games must heed social distancing guidelines, whatever they are in your locale. Here are some of them.
1. The Quiz
Many of you will have quiz fatigue after the initial burst of activity during the pandemic. However, quizzes will never die. It may have been a while since you've done one. So why not browse around for some new and exciting ones? 
A quiz is more of an end of the day or week activity. It's one of fun Friday ideas. Time for people to relax, unwind, and trade useless trivia for workplace clout. It's perfect for remote workers as they can beam themselves in, act as the quizmaster, or if they don't like team-building activities, then they can secretly watch Netflix while everyone else plays.
2. Book Club
Not as quick fire as a quiz, though it's a low-key and calm activity. Many people have read more during the pandemic, as other entertainment options dwindled. A successful book club gives older or, for different reasons, less-active employees a chance for interaction and discussion with colleagues. 
With sports off the table, for the time being, sharing a love of words could work as a way to improve teamwork – book vouchers would work well as a company benefit, thus encouraging participation.
3. Create 'Joint Attention' Moments with Games or Activities
Many things are different now; social distancing and masks are ubiquitous. Spontaneous chats emerge less frequently when everyone has the burden of following the rules. Negating this, and replacing the free-flowing conversation using a collaborative game or activity like online (clothed or unclothed depending on your company policy) life drawing. Just don't use an employee as a model.
Having something which grabs an employee's attention and encourages discussion is useful after many months apart from one another. Joint attention as a concept comes from child psychology; when two individuals share focus, they build a bond. Rebuilding bonds should sit as your number one priority when welcoming your team back.
Although most commonly considered in the realm of developing minds, joint attention between colleagues who haven't shared a room in months may need a kickstart. Consider this concept when planning your team-building activities and use it as a goal or objective.
4. MTV Cribs
Do you remember that classic show of the Nineties and Noughties? We may not have mansions and exotic birds roaming around, but we do have a sense of humor. This game is for the people still working from home. Invite them to host their version of the show and welcome your on-site team into their abode. A stunning example of teamwork from home if there ever was one.
5. Movie Night
Movie theatres, unfortunately, bore the brunt of business closures. If your office has the room, why not go the extra mile and rent some quality equipment to screen some classics or recently released movies. 
It won't recreate the full magic of cinema, though it's as close as many might get for a while. Popcorn and snacks should definitely get a look-in. Keep your remote workers entertained too. Try researching one of the many new apps available that synchronize playback. Twoseven, Syncplay, and Watch Together are all viable candidates.
Alternatively, drive-in movie theatres are having a renaissance. See what's going on locally with you, and take the team to a retro-inspired excursion.
6. Meet in the Morning
In some workplaces, it is usual to start the day with a group meeting around the business performance scorecard or dashboard. With many people spending more time at home, they're likely to have some new hobbies or passions. Give everyone a chance and opportunity to share their latest developments. Think about sanitization, but encourage everyone who feels comfortable to come and enjoy a drink and a donut (or a healthier option). 
Which leads us to lunchtime. Buy in some take-out and let people mingle as they see fit. You're probably aware that some of your team thrive on giving presentations and wouldn't mind sharing what they've been up to in front of the whole staff. But think about the shy ones who would prefer a less prominent time to catch-up with their colleagues. 
The Best Team Building Activities for Work
After months of building teamwork online, the end is in sight for the world, and we can start getting back to normal. Or at least planning how to anyway with some team building activities for work.
Author Bio
Amanda Dudley is a writer and educator who holds a doctorate in History from Stanford University. Her passion for education and learning is borne out through her lectures on American and World History, developing techniques for students with learning difficulties, and her essay assistance work at EssayUSA.