How Do You Achieve Strategic Alignment?
Strategies and tactics can be used to realize your goals and objectives, but how do you achieve strategic alignment between your business, departments, or the whole organization?

Fulfill Objectives with Strategies and Tactics
An objective without strategy and tactics is only a wish.
Strategy
Strategies are the general methods that will help you achieve objectives and realize goals. If a stated objective is to release two new products this year, how is that going to happen? Do you have the right personnel, equipment, and knowledge? If not, then what are you doing to put them in place? If you do, then in what general ways will you employ them?
For example, is it best to have new products that improve on existing ones, or new products that reach into untapped markets and create new product lines? Your goals or objectives may not consider or contain such important information. Your strategy, however, should provide it.
Tactics
Tactics provide even more specific information. What are the key activities that need to take place in order to reach your two product objective? Product research? Design reviews? Prototype building and testing? With tactics you are deploying your resources in very specific ways with very specific activities that will lead to reaching goals and objectives.
Balanced and Aligned Management
Goal-objective setting, and use of strategies and tactics, may not help your organization if they don't align properly to achieve desired results. First are goals and objectives, then strategies and tactics should be used to fulfill the overarching vision-mission statements. But typically other things need to be happening in the organization as well for it to be successful.
Going back to our example vision statement making a commitment to excellent customer service, customer service may be the most important thing in your organization, but few businesses can survive thinking only about customer service. So while the first set of goals should ensure the organization's vision is fulfilled, additional goals (or strategies and tactics) should focus on other facets of your business that are important for success.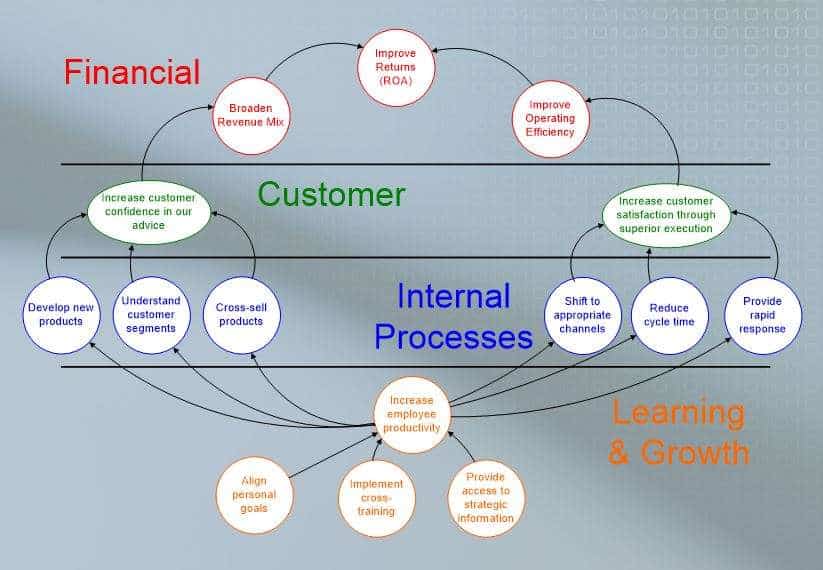 Balanced Scorecard
The balanced scorecard model was set forth by Kaplan & Norton, where they identify four key areas that every business must be concerned with in order to be successful: Financial – Customer – Leaning & Growth – Internal Processes. So even if customer service is the most important activity, any company proactively working toward success should be setting goals in all four areas to maintain balance.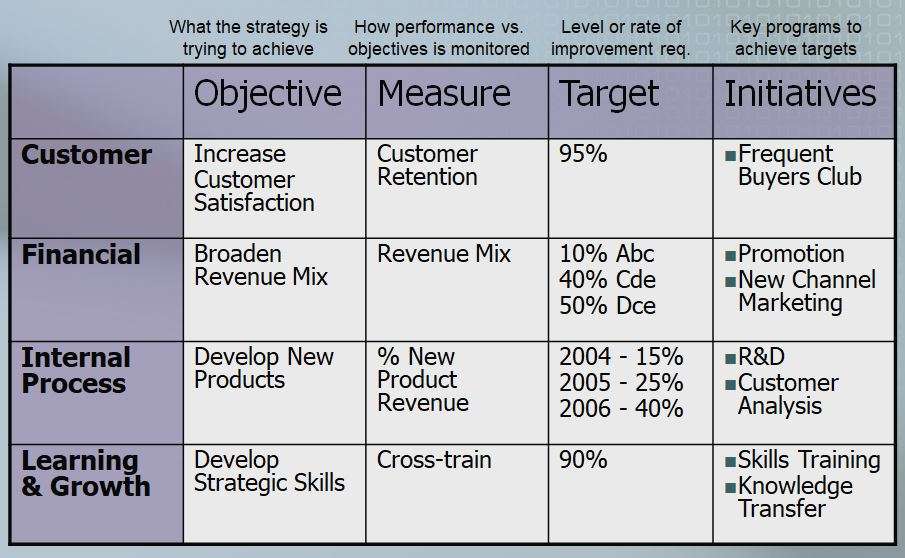 Communicate Your Goals and Objectives
The next step is to propagate goals-objectives down into the organization, with each department or segment creating goals and objectives that align with or support over-arching organizational goals-objectives. Then, functional groups create even more specific objectives to support department goals-objectives.
In the "new product" example, the design/development department would create goals-objectives to support the "two new products each year," and various groups in the department could create goals and objectives dealing with the number of prototypes built, the number of design reviews held, or number of tests conducted; whatever goals-objectives lead directly to reaching the two new products objective.
Achieve Strategic Alignment
True alignment is achieved when your goals, objectives, strategies and tactics reach far down in the organization, yet support the effort to fulfill organizational goals. There is still time to develop and communicate vision, strategies and tactics, and have departments create their own aligning set.
For a deeper understanding of process improvement programs for your organization, attend our personalized classes.
14 responses to "How Do You Achieve Strategic Alignment?"