How Can You Get Your Website Noticed?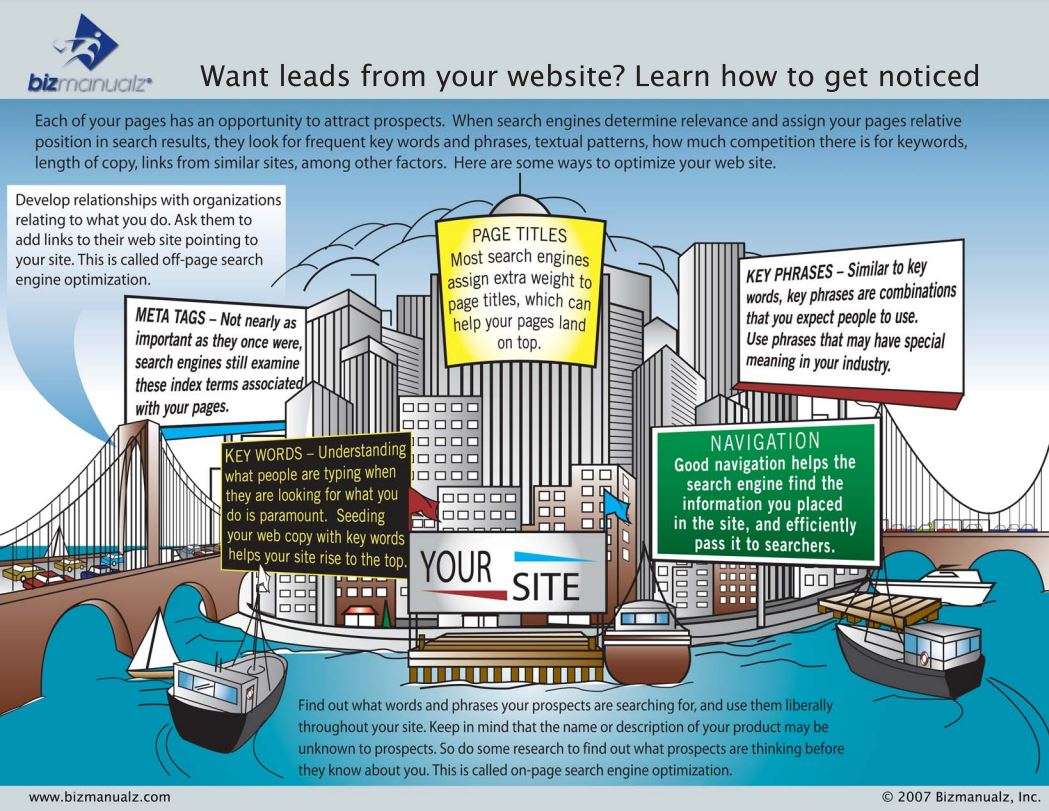 You can use visual stories to convey your message, but even when you have a message, how will you attract customers online so your prospects will find you? One way that business people find goods and services is to search the web. It's up to you to optimize your website to make it easy for search engines to serve up your website when prospects go searching. How can you get your website noticed?  Find out how you can get ahead of your competitors in search results, promote your website, and increase your website visibility.
Learn How to Get Your Website Noticed!
Now that you've got a website with great marketing content, how is anyone going to find it? What exactly are your prospects searching for? How can you get search engines to show links to your website in the first few results pages? You can get your website noticed through search engine optimization.
Website Pages Attract Prospects
Each of your website's pages has an opportunity to attract prospects. To assign relevance and give your pages top position, search engines look for frequent keywords and phrases, textual patterns, how much competition there is for keywords, length of copy, links from similar sites, among other factors.
Here are a couple ways to increase the online presence of your website:
Develop relationships with organizations relating to what you do. Ask them to add links pointing to your site. This is called off-page search engine optimization.
Find out what words and phrases your prospects are searching for, and use them liberally throughout your site. Keep in mind that the name or description of your product may be unknown to prospects. So do some research to find out what prospects are thinking before they know about you. This is called on-page search engine optimization.
Search Engine Optimization
Getting noticed on the web takes know-how, and work. The fifty-cent term for it is Search Engine Optimization, or SEO for short. Your competitors may not be using SEO to its fullest, which presents you with an excellent opportunity for a competitive advantage. This article gives you a few tips to help your site be found before competitors', the first step if your web site is going to generate sales leads.
SEO Elements
You need successful SEO execution. Structuring pages and documents correctly, eliminating common mistakes and getting links on related sites is all part of a managed lead-generation program that includes search engine optimization.
Keywords
Understanding what people are typing when they are looking for what you do is paramount. Seeding your web copy with key words helps your site rise to the top of the search engines. Choosing the right keywords for a page is a critical SEO technique to rank your website higher.
Keyword Phrases

Similar to keywords, keyword phrases are combinations of keywords that you expect people to use. Using keyword phrases that may have special meaning in your industry is what good SEO is all about.
Meta Tags
Not nearly as important as they once were, search engines may still examine these index terms associated with your pages.
Page Titles
Most search engines assign extra weight to page titles, which can help your pages land on top. Use keywords and key phrases in all of your page titles.
Navigation
Good navigation links helps the search engine find the information you placed in the site, and efficiently pass it to searchers.
Get Your Website Noticed
Think you can get people to contact you by just writing about your new technology in your blog or by giving away free white papers? If what you do is new, what makes you think prospects are searching for it?
Rather, consider what prospects are thinking, and typing, when they are in a frame of mind to care about what you offer. You need a digital marketing strategy. Otherwise, your site will become just one more dark corner on the Internet.
Effective use of search engine optimization can greatly enhance the performance of your sales and marketing process, and provide you a competitive advantage. Better lead generation, in turn, also means an improved sales and marketing pipeline.