How Do You Create a Content Marketing Strategy?
Content marketing is about telling a story to capture the attention of an audience and prompt them to act in a desirable way. Succeeding in content marketing requires being strategic with your blog to ensure that your stories stand out against those of competitors.  How do you create a content creation strategy?
Blog Strategy for Sustainable Content Marketing Success
Digital marketing through blogging can enable you to have a better reach, boost visibility and find prospective clients. This blog will give you valuable insights into how to achieve sustainable content marketing success through blogging.  
Focus on Your Audience
Content marketing focuses on lead generation and translating the leads into conversions. As such, you need to understand your prospective buyer persona as a representation of the target audience. 
If you have a website domain, it is easier to identify and analyze the people who visit your website and what they are interested in. Successful content development is based on how responsive your website is and your ability to analyze the readers' data. Use the data analytics to understand the web visitors' demographics, including the job title, age, seniority, gender, and interests. 
Understanding the demographics can help you to create buyer personas which will be the basis of creating customized content for your audience. Identifying the buyer persona helps to create a personalized experience with the brand and enhanced customer segmentation.
According to an experienced blogger and part-time writer at the cheap essay writing service uk, creating a buyer persona entails talking data from the existing leads, gathering the data through research, and matching the persona with appropriate marketing tactics. Understanding your target audience provides a platform for creating blog content that will amount to better lead generation and final conversions.
Set Measurable Goals
Setting goals for your blog is an important aspect of any project because it provides direction for the desired results. Identify your target response, establish how you intend to reach your target, and measure progress towards your target. Specify your targets when planning to start blogging and ensure that the targets are SMART goals–specific, measurable, attainable, realistic, and Time-bound.
Blogging requires you to position yourself as authoritative in the marketplace because people are interested in dealing with a business they can trust. Use a blog to demonstrate your level of expertise to people and make them trust your product and the prices.
Connecting the blog content to a legitimate social media profile may help to boost the search results and boost the brand credibility. Specify the level of legitimacy you want to attain on social media and position yourself accordingly.
Identify Content to Repurpose
Creating reusable content in your blog is key towards sustainability and getting a better return on investment. Repurposing blog content helps to boost SEO as a result of generating opportunities to target desired keywords. Additionally, taking the repurposed content away from your site can yield quality links to your website. 
Another benefit of repurposed content is that it can help you to reach new audiences. As opposed to the original content that reaches a given group of customers, repurposing content for various mediums enables you to find an audience easily. 
The common ways of repurposing content include:
Create new articles and blog posts.

 Ensure that the content is of high quality and beneficial to your audience.

Create an infographic

. Create a summary of your content using a visual format.

Build a presentation

. Meaningful quotes, valuable advice, and statistics can yield good slides for presentation to improve the readability of the content.

Republish old posts.

 Consider stunning articles that could still be relevant today and refresh them before republishing. 

Post and promote the content on social media afresh

. This is an effective way of finding an audience and reaching out to new followers. 
Develop a Content Creation Plan
As a business owner, you may have intentions such as blogging regularly, starting a YouTube channel or beginning to host shows on Facebook. Such plans can only be effective if you focus on commitment and consistency. A plan for content creation is a tool for enhancing the sustainability of your blogging efforts. Think about how to write social media posts that sell.
If you are building a new business, match the content creation plan with the business goals and include a call to action (CTA) in the plan. Developing a plan requires you to determine the type of content and the topic. The best ways to find content topics include visiting other blogs, checking out relevant magazines, and engaging in social media groups.
Ensure that the plan is focused on one medium to facilitate repurposing. The medium could be a social media platform, a website, a YouTube channel, or a podcast. You also need to have a website to serve as a home base to allow people to discover your brand and how it can solve their problems.
Outsource Content Creation
Hiring a permanent content creator may be expensive and so you can seek help from external writers. Outsourcing content creation may be challenging in the beginning because it takes a little effort and time to identify a good writer. 
Since you are looking for quality and engaging content for your blog that converts, take time to review the profile of prospective writers before hiring. Different freelance writers are willing and able to take up the content creation task regularly. As such, you may need to rely on a few writers over the years, which is relieving in the long run.
Use freelance platforms through which you can review the writers' work experience, earnings, and ratings. Another approach could be posting the content writing jobs on various job boards and asking for the writer's resume to facilitate the hiring process. 
Utilize User-Generated Content (UGC)
UGC is very common on social media platforms where customers upload images after interacting with a product or a brand. Leveraging UGC is easy because it requires the use of branded hashtags to allow the audience to identify your brand. 
After interacting with your brand, invite customers to share their experiences, and encourage them to upload the product images. This could help you to identify creative customers to serve as brand ambassadors. 
Since UGC supports content curation, you can establish credibility in the marketplace, boost brand awareness and social media metrics, and enhance lead generation. UGC campaigns work better if they are integrated with social media platforms. Executing the UGC campaigns on your favorite social media platforms is a great way to build customer relationships and strengthen your brand. 
Positive reviews by customers can boost SEO rankings and rank your website higher. When users publish content in their blogs, your website's backlinks can also boost the ranking. Analyzing the words and phrases that the users search frequently can improve keyword optimization search as well.  
UGC helps to increase personalization which is a way through which your target audience can engage with your content. It could also help you to discover what excites your audience most and incorporate personalization in your marketing campaigns.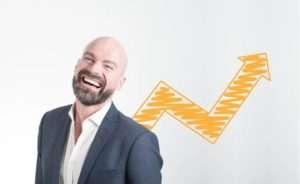 Content Marketing Blog Strategy
As an average brand or startup, aim at creating a blog strategy for sustainable marketing success to increase brand awareness and conversions. Blog content creates positive results for brands and blogging can help promote your business. It can be beneficial to your brand if you follow the above tips consistently. It may take some time before realizing blogging results and so it is important to be patient and use different tactics for improved results. 
One response to "How Do You Create a Content Marketing Strategy?"