What are the Critical Business Processes, Policies, and Procedures in a Company?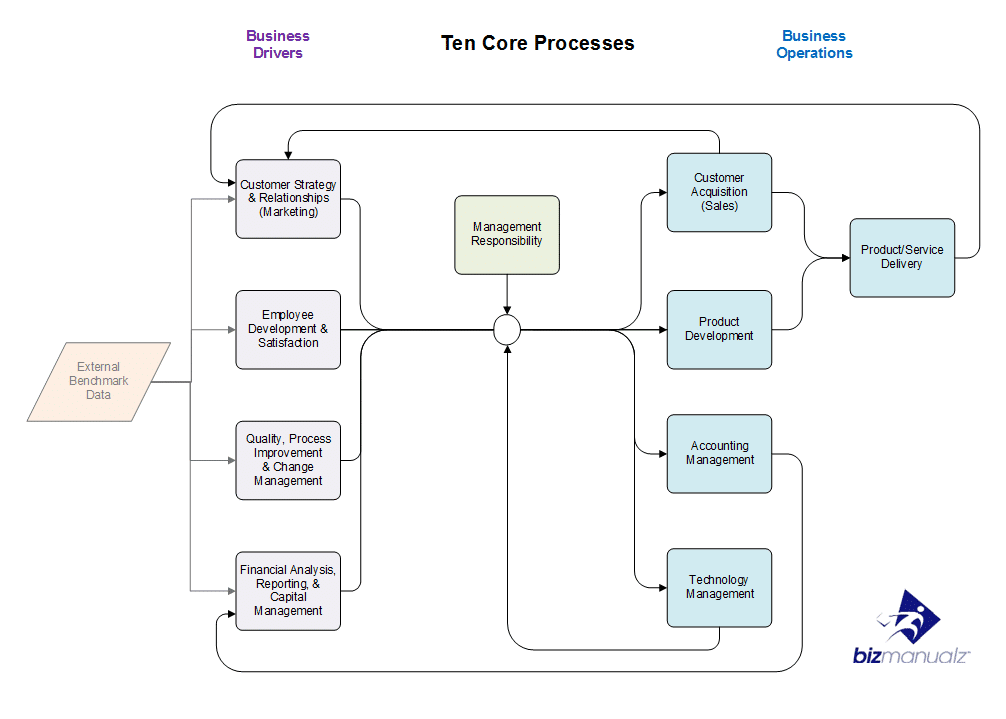 All companies have business processes. Some are well defined, but many are ad-hoc, leaving employees uncertain as to whether there is a process at all. Ask yourself: do company policies exist if they're not documented? Many people then ask: what are the critical business processes, policies, and procedures in a company?
Critical Business Processes
The Bizmanualz Company Policies and Procedures Series is designed with your critical business processes in mind.  The nine business policies and procedures manuals in the series provide key departments within your organization with examples of the primary business procedures used in writing your company procedure manuals. How do the nine CEO procedure manuals address the critical business processes?
1. Customer Strategy & Relationships Process
Marketing is a good place to start.  Most businesses talk about the customer being the most important part of any business.  Well, if your customer is so critical, have you mapped out a clear customer strategy and customer relationship process?  Do you have customer strategy procedures for developing awareness and education of your business in the marketplace?
The Bizmanualz Sales and Marketing Policies and Procedures Manual provides sample policies and procedures to help you set marketing strategy, marketing tactics, and marketing planning to cover the first part of your marketing sales funnel — awareness and education.
2. Employee Development & Satisfaction Process
Your workers are essential to your business because your employees are the ones that talk to and develop your customers.  The Bizmanualz Human Resources Procedures Manual provides example HR Department procedures for hiring, administration (e.g., personnel records, compliance), compensation, and — the most important part – developing your employees.
The HR manual also includes a sample Employee Handbook and an HR Manager's Policy Manual to provide a complete discussion of human resources.  Keeping employees and facilities safe is the focus of the Bizmanualz Security Procedures Manual, which includes coverage of guard force management, employee conduct, emergency operations, protection, and safety.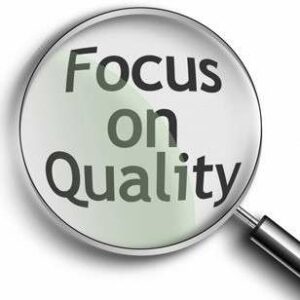 3. Quality, Process Improvement & Change Management Process
Quality is driven by competition, your desire to excel at what you do and make your customers happy.  The Bizmanualz ISO 9001 2015 Procedures provides a sample quality business processes manual, the six quality procedures required by ISO 9001, and additional supporting procedures to provide a foundation for your process improvement and change management initiatives.
4. Financial Analysis, Reporting, & Capital Management

Management by fact is critical to fast growth companies.  Cash is the lifeblood of your company and a fast growth company consumes cash quickly.  The Bizmanualz Financial Procedures Manual has example department procedures for financial administration, raising capital, managing capital, financial statement reporting, and the internal controls necessary in a fast growth company.  A controllers Policy Manual is included to provide the direction and organization for controlling your company cash.
5. Management Responsibility Process
Business process management is integral to every area of your company.  Every manual in the CEO Series covers the management of that departmental area.
Each manual provides a departmental (functional) manager's manual that describes the departmental organization structure, major responsibilities, departmental guidelines, ethics, policies, and – of course – the primary business processes for that department.  The Bizmanualz Business Policies and Procedures Sampler provides a simple, fast, and easy way to provide immediate oversight for all of your operations.
View our Free Company Policies and Procedures Template
6. Customer Acquisition Process
Sales is about engaging your customer and closing the sale.  The Bizmanualz Sales and Marketing Procedure Manual contains procedures for the entire sales funnel, sales process, sales administration and sales management common to organizations that have to oversee a sales force.  The Bizmanualz Accounting Policies and Procedures Manual contains procedures for controlling cash and the revenue cycle, which is a parallel and supporting activity to the sales process.
7. Product Development Process
In order to create new products, you must obtain requirements from sales and develop products that satisfy the customer.  Therefore, product development procedures are found in both the Bizmanualz Sales and Marketing Procedure Manual and the Bizmanualz ISO 9001 2015 Procedures, which contains procedures for customer requirements, as well as the design and development of new products.
8. Product/Service Delivery Process
The Bizmanualz Accounting Procedures Manual contains procedures for shipping, receiving, and inventory control.  But since delivery is part of ISO and quality, the Bizmanualz ISO 9001 QMS Procedures Manual also provides coverage of this critical customer facing area.
9. Accounting Policy Management Process
Maintaining your chart of accounts, bookkeeping, and watching your accounting cycles is about transaction management, as opposed to finance which is focused more on raising, managing, and using cash effectively.
The Bizmanualz Accounting Policies and Procedures Manual focus is on controlling operating cash receipts, cash disbursements, inventory and assets, the revenue cycle, and general accounting administration.
10. Management Process
Where would we be without information technology — all of the technology in your company?  The IT policies and procedures templates contains procedures for IT administration, IT asset management, IT training, technical support, IT security, IT disaster rec
overy, and software development.  More in-depth business continuity planning is provided with the Bizmanualz Disaster Recovery Procedures Manual.
View Free Sample Critical Business Processes
Download Free sample company policies and procedures from each manual in the CEO Series with no obligation. Or if you are ready to purchase, you can buy now using our secure server and your manuals will be available for instant download. Take advantage of our money-back guarantee and buy the CEO Company Manuals risk free!