How to Run a Successful Supply Chain Management Business
Starting a supply chain management business can be challenging but not impossible. You need to understand your market, have the right skills, and set out to attract your first customer. Read on to learn more about how to run a successful supply chain management business.
How to Start a Business With a Supply Chain Management System
Supply chain management is the backbone of every business that deals with customers, either directly or indirectly. Some of the best companies, from online retailers such as Amazon to service companies such as airlines and even online gaming brands such as Razor Shark, all have one thing in common. That is, they have a well-managed supply chain. 
If you are new to supply chain management, you must be wondering what this discipline entails or perhaps what your new business will look like. Keep reading to learn more about supply chain management and how to run a successful SCMS business. 
Understanding Supply Chain Management Systems (SCMS)
The supply chain is a series of events or processes involved in designing, producing, and distributing a product or service. On the other hand, Supply Chain Management Systems are an interorganizational network of processes and structures that allows companies to handle the flow of goods from different suppliers to their customers. 
Whether you are an expert supply chain professional or a curious entrepreneur trying to gain a competitive advantage with supply chain management and logistics businesses, we've got you covered. More often, starting a supply chain management business requires some technical skills in supply chain logistics, operations, and management. Even then, these are skills that you can learn on the go and develop as you grow your businesses. Let's now dive into the nitty gritties of starting a successful supply chain management business. 
Steps to Building Your Business With an SCMS
Like any other business, supply chain management requires access to capital, business savviness, industry knowledge, the right ideas, and the energy to execute. If any of these is lacking, you don't have to worry since you are now aware and can easily acquire them. Here are the fundamental steps to building and growing your supply chain business.
Understand the Market 
The first step to starting a successful supply chain business, and any business for that matter, is to conduct proper research. Unless you are well exposed to this niche, you may need to dig deeper into how the supply chain market works. A rule of thumb is to segment the market, so you can know your probable customers.
What follows is to consult an expert in the field, such as a supply chain analyst, about the dos and don'ts of the industry. A supply chain finance expert will also help you set up your budget to avoid straining your resource pool.   
Understand Supply and Demand
Once you know how the market works and are ready to set up your SCMS, you can begin working on the concepts of supply and demand. To successfully manage supply chain activities and maximize customer value, you need to be super accurate with your supply and demand estimations.
Your information systems should have the figures right to ensure business operations run smoothly from the suppliers to the customers. Once you have your first customers, you should start tracking how the demand compares to the supply for the various products. You can then use these metrics to forecast demand and keep your business in order.
Track the Purchase Orders 
On the supply end, your work is to ensure the right amount and quality of products are availed at the exact right time. After placing orders with your suppliers, you need to track these orders to avoid delays and unnecessary inconveniences.
The global supply chain is prone to several challenges, and you always want to stay ahead of the game. Nowadays, technology is reshaping E-Commerce and businesses are deploying blockchains in supply chain management to minimize communication challenges and enhance transparency. You may also want to adopt this technology once your business is up and running.
Manage Your Inventory 
Another critical aspect that will determine the success of your supply chain management business is how you optimize your inventory management. Stocking out during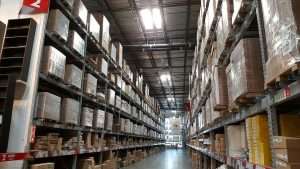 the peak seasons disappoints customers, and your clients won't be impressed as well.
A solution to this is to leverage supply chain analytics to inform your critical decision-making, such as how much and when to restock. You also want to study your buying cycle and use the right technologies to track your inventory. That way, you'll ensure end-to-end visibility of your supply chain. 
Understand the Warehousing Options 
Managing your supply chain from the suppliers to your customers is a lot of work. Along the way, you may need to outsource some of the services. One of such services is warehousing. More often, keeping all your inventory in one place may not be a good idea, especially when your customer base is global or spread across the country.
That way, you'll need to partner with third-party logistics providers who are competent and trustworthy. Always check if the professionals you want to partner with have undergone any supply chain certification program. If yes, what's their reputation in the market?
Fulfilling Orders
Last but not least is understanding what it takes to fulfill orders professionally so that you have your customers coming back for repeat business. Here, a keen understanding of eCommerce supply chain logistics from order management to shipping is critical. Small companies are often not well resourced to handle order fulfillment. So they would want to partner with third-party logistics companies either for drop-shipping, pick and pack orders, or warehousing and fulfillment.
Run a Successful Supply Chain Management Business
Now that you know what it takes to start your SCMS business, feel free to experiment with an import export business niche. Remember to seek professional advice where necessary and hire the best talents around to help push your company forward. Ready to jump-start your supply chain management business? Which of the above tips resonates the most with you? Share your thoughts in the comments section below.
Author's Bio: Thomas Glare holds an undergraduate degree in Business Management from UC Berkeley. He likes to play competitive video games in his free time, and he even writes on a section about casino gaming for  Mr. Bet. You can also find him hiking or taking piano classes during his off days.