Master Parts List Template
The Inventory Control Manager should prepare and maintain the Master Parts List Template with all additions, changes, and deletions. The Manufacturing Manager should prepare all bills of materials (BOM) from the MFG106-1 MASTER PARTS LIST, in accordance with the Bill of Materials procedure.
The Master Parts List Template will be prepared according to part numbers in sequential order. For each part, the following information (at a minimum) will be provided:
Part number;
Part name and description;
Primary vendor (if applicable);
Unit of measure; and
Standard unit cost.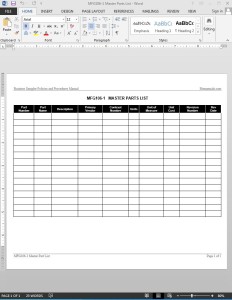 Master Parts List Template Details
Pages: 01
Words: 23
Format: Microsoft Word 2013 (.docx)
Language: English
Manual: Business Sampler
Category: Manufacturing
Procedure: Master Parts List Files Procedure MFG106
Type: Form
Related Documents