Control Your Business Documents
Organizations start with hundreds of business policies, procedures and forms documents. Soon thousands of files are scattered across disparate share drives and servers. It's time for more document control.
Access Procedure Documents from the Internet
Individual documents located on a local share drive are not easily accessible remotely, or secured with permissions. Its time to get easy controlled access to all of your policies and procedures or forms.
Simplify Document Workflow, Revisions, and Compliance
Documents change, are revised, and updated. Are you sure documents are reviewed, approved, and everyone knows about and has read the current version? Its time for easier workflow and compliance.
What People Are Saying About OnPolicy
"We were searching for a system that included version control, a thorough approval process, was secure and could be used by our external auditor. OnPolicy provided all of these features."
CFO, Shipping Company; USA
"We are a business consulting company and our clients have very specific requirements and procedures. We use OnPolicy to organize the client's documents and restrict access to each client's documents/ files to only those consultants working with that specific client. Allows for information sharing via the cloud and restricts access – both are absolute requirements in this business."
Managing Partner, International Consulting Practice; USA
"I managed policies and procedures at a previous company. We used a spreadsheet and a shared hard drive. It was a nightmare managing changes, making sure everyone read the procedures, and preparing for external auditing. I'm now at a new company and I've similar responsibilities. And I'm not managing documents manually ever again!"
Compliance Officer, Pharmaceutical Company; USA
"We were looking for a system that managed the approval process and was easy to train employees to use. OnPolicy meets those main requirements and much more including employees to have access to company-wide documents and department specific procedures. It is a viable solution in a highly regulated industry."
CFO, Financial Services Company; USA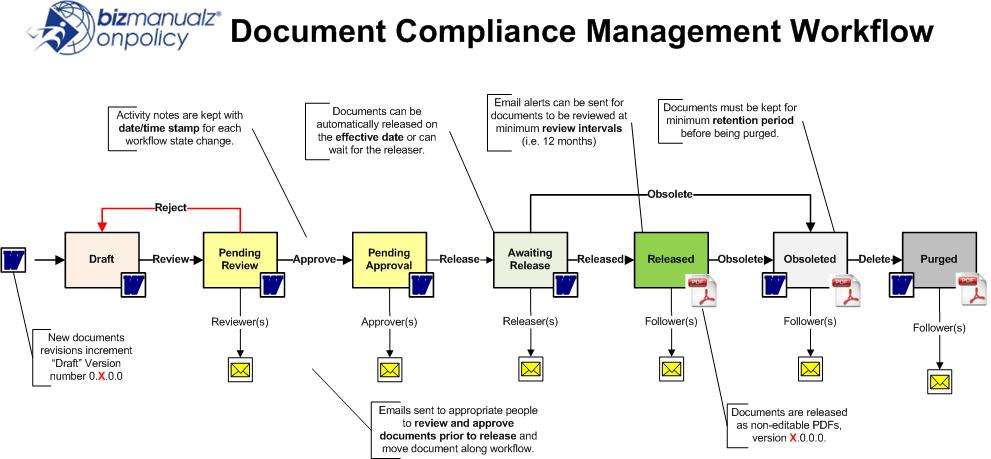 EASY ONLINE ACCESSIBILITY
Minimizes IT involvement. All policies and procedures documents are available  online and accessible from any internet connection, anywhere in the world.
READER CONFIRMATION
Excellent compliance record. Users confirm reading and acceptance of policies, procedures, or other documents you define.
SIMPLE VERSION CONTROL
Never lose a revision. All of your policy and procedure version changes are automatically saved. Easily roll-back previous policy versions.
FAST DATA IMPORT / EXPORT
Store any document. Import your MS-office policy documents, scanned images, PDFs, and many other file types.
APPROVAL WORKFLOW
Oversee document release. Optionally designate users to review, approve, or release policies and notify those users of policy and procedure changes.
CONTROLLED DOCUMENT ACCESS
Secure each document. Create policy access controls, permissions, and groups.
INSTANT AUDIT TRAILS
Simplify audits. Up-to-the-minute policy stats on how many people are visiting your policies and procedures, who has reviewed, and approved each document.
QUICK FILE SEARCH
Find any document. Add your own policy and procedure keywords and tags to improve policy searches, reference compliance standards, or support the local language your users use.
FLEXIBLE FILE PERMISSIONS
Document or file permissions are based on individual user access and department based access. Allow permission to whole departments or individual users easily.
Simplifies Your Policies and Procedures Management
OnPolicy simplifies your

onpolicy software

by providing an easy online interface to manage, control and share your important documents over the web.  Fast, simple internet access for all of your document management needs
OnPolicy is a Software-as-a-Service (SaaS) solution, which means there is nothing for you to install or manage. You can focus on what is important to you – ensure that your policy and procedure documents are used as intended, up-to-date, and provide the compliance evidence that your auditor requires.
Try Policy Management Software FREE
Try Bizmanualz Onpolicy for 30 days:
Full Policy Management Software functionality at your fingertips
Review sample policies, procedures, and forms
Upload your policies, procedures, or other documents
Draft, review, edit, approve, release, and manage policy documents online
Set permissions by department or individual user
Policy Procedure Software Made Easy
See how simple and easy it is to control your documents with OnPolicy.
Sign Up for a Free 30-Day Trial
Test drive the latest OnPolicy Procedures Management Software! Please complete the form below and we will immediately set up a free trial account for you. Since your account information will be emailed to you, please make sure that you provide a correct email address.
You will have 30 days to evaluate a full version of OnPolicy, Your solution to web based policies and procedures management.
Fields in bold are required