Sample ISO 22000 Food Safety Policy Procedure Template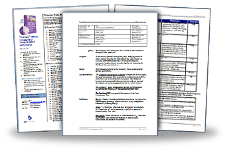 The Sample Food Safety Procedure Template
The free sample ISO food safety template will show you the format, writing style and content of the ISO 22000 and HACCP food safety manual. Now you can quickly and easily create your own ISO HACCP food safety system using sample MS Word procedure templates.  Submit the sample registration form to download a MS Word file from the food safety manual.
The ISO 22000 Policies Procedures Manual
The sample ISO 22000 policy template is from the ISO 22000 Food Safety Procedures Manual, which includes:
Sample HACCP Food Safety Quality Manual
21 Prewritten Policy Procedure Templates
43 Accompanying Food Safety Quality Forms
Food Safety & HACCP Manual Preparation Guide
Sign Up to Download Free Sample Policy and Procedure Templates
Complete the form below to download sample Policy and Procedure templates.
You will be added to our confidential email list, which will not be sold or rented. Unsubscribe by clicking the link at the bottom of any email. See our Privacy Policy for more details.
Your sample Policy Procedure template is available for immediate download. And, it's free – no credit card, no obligation!