Why Buy Word Policies and Procedures Templates?
Top Reasons to Buy Standard Operating Policies and Procedures Templates
Learn the top reasons why you should buy your standard operating policies and procedures templates from Bizmanualz, the worlds #1 business process policies and procedures templates company.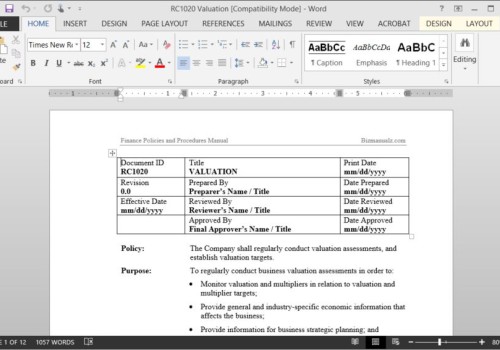 1. HANDY STARTING POINT – NO NEED TO START YOUR PROCEDURES FROM SCRATCH
Well-researched, thorough policies and procedures at your fingertips! Well-defined starting point simplifies your compliance and control objectives and saves time you would spend researching best practices. Utilize standard operating procedures (SOP) to build more consistency into your company. Meet requirements FAST.  Download your free policies and procedures today.
2. MS WORD POLICIES AND PROCEDURES TEMPLATES ARE EASY-TO-EDIT 
You get all your content in easily editable and customizable Microsoft Word files. You can change any of the text, add your own content, and customize the standard operating procedure template Word documents to fit your company and needs.
3. EASY-TO-READ PROCEDURE FORMAT
Wherever applicable, procedure templates include crucial time-saving features such as:
Clear and concise header block;
Clearly defined roles and responsibilities;
Definitions of key terms;
Effectiveness measures;
References to related documents and regulations;
A "revision history" table;
Sample forms; and
ISO 9001 approved standard layout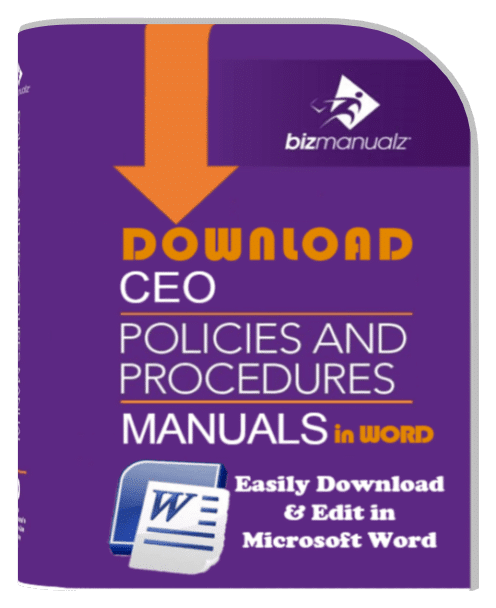 4. COMPREHENSIVE MANUALS AND DISCOUNTED PROCEDURE BUNDLES
Along with MS Word Policies and Procedures Templates, manuals are available as well. Manuals are available for every business department including: Accounting, Finance, HR, IT, Sales, Marketing, ISO Quality, Security, and Disaster Recovery processes. The nine-manual CEO Company Procedures Series or the five-manual CFO Accounting Procedures Series will save you as much as 45%.
5. THOROUGHLY RESEARCHED CONTENT PREPARED BY QUALITY PROFESSIONALS
All standard operating procedure manual content is researched by certified quality professionals, subject matter experts, and technical writers who together have decades of business experience. The finished product is thoroughly reviewed by subject matter experts who bring their years of specialized experience to the topics we cover.
6. IMMEDIATELY AVAILABLE FOR DOWNLOAD
All products are instantly downloadable from your Bizmanualz account.
If you purchase any of our individual policies or procedures, you will download a Microsoft Word document. If you purchase a manual, you will download a self-extracting ZIP file containing MS Word files.
Download Free Sample Microsoft Word Policies and Procedures Templates
So what does a typical procedure look like? Or, what does a specific manual cover? Or, how many procedures does a specific manual have? You can find answers to all of these questions and more when you download free policies and procedures. 
MS Word Policies and Procedures Templates are available from each of the manual products – 19 procedure templates in all.
Sign Up to Download Free Sample Policy and Procedure Templates
Have a Question?
Need help with your policies and procedures project? No problem, just call or contact us.