Purchasing Procedures provide vendor selection and purchasing controls that assist in managing cash flow and providing quality inputs to the company. To make intelligent purchases, you must get the right quality and quantity of materials from the best vendors, at the best price, and at the right time. What are the basic purchasing procedures for the procurement process?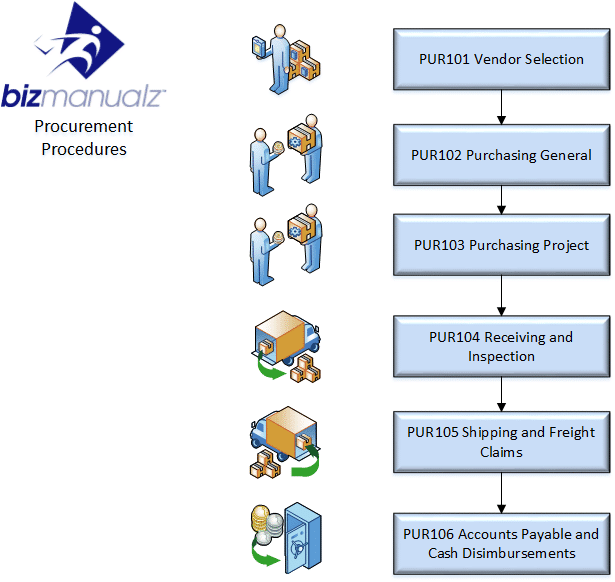 Procurement Process Basic Purchasing Procedures
Many businesses overlook the design of their purchasing process and controlling their supply chain to obtain a competitive advantage. You constantly buy many products and services, but do you plan the purchases as effectively as you could? As a result, you can end up spending more money than you budgeted and end up buying things that aren't up to the purchasing requirements for your needs, or choose vendors who don't provide the kind of service you expect. The following Purchasing Procedures should be utilized to account for and control all purchases and acquisitions of the company.
The company ensures purchased products and services conform to specified requirements. This starts with selection of appropriate suppliers that have the capability and systems to supply products, materials and services to the company's specified requirements.
The company should strive to validate the performance capabilities of all vendors and maintain the internal controls of the purchasing functions. Suppliers are controlled to the extent necessary based on the effect of the purchased items on the quality of the company's products and services.
The company should provide the vendor selection procedures for determining, documenting and, when applicable, inspecting vendors for compliance with company policies and contract purchasing requirements. This applies to all vendors of products, materials, and services that directly affect the quality of the company's products and services.
The investment in physical inventory, supplies and capital equipment will be facilitated through the Purchasing Department, maintained at the lowest effective level and supervised consistent with a common set of procedures and controls as required by all regulatory and customer contract requirements.
Purchasing procedures shall outline the actions to be taken for 1) the procurement of all inventory, supplies and capital equipment, 2) the continuous analysis of inventory usage and balances in order to minimize the investment level, 3) the completion of related documents. This applies to the purchase of all inventory items, supplies and capital equipment for all departments within the company.
Rated 4.58 out of 5

$

1,695.00

Rated 4.47 out of 5

$

495.00

Rated 4.20 out of 5

$

495.00
The company's Purchasing Department is responsible for obtaining a competitive price on materials in correct quantities in a timely fashion, so that the flow of construction is not interrupted or impeded. The company should describe project purchasing procedures involved in maintaining the ordering, purchasing and receiving functions needed for projects in the field as specified in the project plan. This applies to the purchase of all materials, services, tools, supplies, equipment and equipment rental for all development or construction projects.
All parts, components, goods and materials should be received in an organized manner and inspected for conformance prior to stocking to provide an initial quality control inspection. Any items or shipments rejected will be properly quarantined from other inventory items until disposition. The company should outline the steps for a receiving and inspection of materials procedure, components, parts, finished goods, etc., and the stocking of these items or the disposition of rejected items. This applies to the receipt of all inventory items.
The company should strive to minimize damages to goods from shipping and to recover full amounts possible for any losses incurred by shipping damage or loss of goods as allowed by the Interstate Commerce Act. The company should institute shipping procedures to be followed for shipping and filing freight claims. This applies to all goods shipped and received by domestic motor and rail common carriers.
Internal controls are required to ensure that only valid and authorized payables are recorded and paid. Accounts payable procedures should be implemented to ensure the accuracy of amounts, coding of general ledger accounts and appropriate timing of payments. The company should explain the practices for documenting, recording and issuing payments for accounts payable transactions. This applies to all purchases including, merchandise and non-merchandise purchases.
Basic Purchasing Procedures for Your Procurement Process
The purchasing process is an important process to document with procedures that require careful consideration. Your purchase order system consists of the processes your employees and buying manager will use to request, order, receive, and pay for the products and services your company requires. A solid procurement ordering system will aid in maintaining positive supplier relationships, improved cash flow, greater inventory control, and ensure your company's overall profitability.
Download Free Policies and Procedures to see how easy it is to edit MS Word Templates to build your own accounting policy and procedure management system with financial internal controls.