Introducing the 5-Manual CFO Internal Control Procedures Bundle Template Word

As a CFO, you understand the importance of having strong internal controls in place to ensure the accuracy and integrity of financial reporting. However, creating and implementing these controls can be a daunting task. That's where the 5-Manual CFO Internal Control Procedures Bundle Template Word comes in.
This bundle includes five comprehensive manuals that cover all aspects of internal control procedures, including financial reporting, cash management, accounts payable, accounts receivable, and inventory management. Each manual is fully customizable and comes in a user-friendly Word format, making it easy to tailor the procedures to your organization's specific needs.
With the 5-Manual CFO Internal Control Procedures Bundle Template Word, you can:
Ensure compliance with regulatory requirements
Reduce the risk of fraud and errors
Streamline financial processes
Improve the accuracy and timeliness of financial reporting
Plus, with the included templates, forms, and checklists, you can easily track and monitor your internal controls to ensure they are working effectively.
Don't let the complexity of internal control procedures overwhelm you. With the 5-Manual CFO Internal Control Procedures Bundle Template Word, you can have peace of mind knowing that your financial reporting is accurate, reliable, and compliant.
Policies and Procedures Manual for Accounting and Financial Internal Controls
The essential set of financial accounting internal control procedures manuals provides a comprehensive collection of fast, easy, and fully editable business templates that any Chief Financial Officer (CFO) or Controller can turn to for business best practices. Why start from scratch when you can have thoroughly researched, prewritten content at your fingertips?
This set of five downloadable policy manuals includes all the financial accounting policies, procedures, and forms that you need as a CFO or Controller to establish strong accounting financial controls and manage your core accounting processes. Your download includes five MS-Word procedure manuals covering accounting, finance, computer & IT, human resources, and general business.
Written by experts in the field, you will receive easily editable Microsoft Word format templates you can customize to fit your specific needs and you will enjoy a bundle discount of 35% off the list price too.
Download Free CFO Internal Controls Procedure Samples
Download free sample internal control procedures from each of the five manuals in the CFO Financial Accounting Policies and Procedures Manual. View the table of contents from each manual, receive sample Word templates, or download PDF files.
Five Procedure Manuals
4,120 Pages of Process Content
262 Policies Procedure Templates
374 Business Forms Templates
Example Job Descriptions
Download Financial Accounting Internal Controls
A financial accounting policies and procedure manual is widely recognized as an essential component of internal controls. The CFO Series includes everything a controller needs to build strong internal controls in accounting or update your existing financial accounting process documentation.
Financial Compliance Simplified
Your financial accounting processes are critical business processes that impact your financial compliance with commonly established GAAP or IFRS best practices, or legal requirements like Sarbanes Oxley (SOX). The terms financial accounting policies or accounting procedures encompass a much broader context than simply receipts and payments.
Think of the accounts receivable process, accounts payable process, revenue recognition process, and financial capital process. What about banking, cash flow, and financial statements? Or tax accounting, costing, compliance, assets, and auditing? It's a lot for any controller or busy CFO with responsibilities.
Financial Accounting Control
The term "financial accounting" encompasses more than the traditional "dollars and cents". It includes areas ranging from human resources (payroll, benefits, etc.) to computer information transaction integrity. So, since procedures on counting income and expenses are only a part of what makes up accounting, what do you include when you are designing a financial accounting policies and procedures manual?
Internal Control in Accounting
We mentioned four key Bizmanualz products to strengthen your internal control: Accounting controls; Financial controls; Human Resources controls; and Computer & IT controls. If you purchased these separately, they'd cost $2,380…but all of these accounting processes and their associated practices and procedures are included in the CFO Financial Accounting Procedures Series for only $1,995! Plus, you receive the Bizmanualz Business Policies and Procedures Manual Sampler for free when you purchase the bundle! The Business Procedures Manual includes 111 additional business procedures for many general business areas.
This five-manual series address the ten core accounting processes needing internal control that all controllers need to pay special attention to. You will be able to implement policy controls with example accounting procedures for critical accounting and financial processes that form the core of your internal control system.
Internal Control Examples include: cash disbursement, production, financial reporting, finance, asset, purchasing, internal audit, strategic planning, payroll, and information integrity.
Internal Control Procedures

Implementing accounting internal control procedures has never been easier. The CFO Financial Accounting Policies and Procedures Series will provide a boost to your accounting compliance management process, and will help you prevent waste, fraud and abuse.
Sox Compliance
Implementing an internal control system is a fundamental requirement for compliance with Sarbanes Oxley Section 404. Both the Securities & Exchange Commission (SEC) and the Public Company Accounting Oversight Board (PCAOB) point to the COSO publication "Internal Control – Integrated Framework" as an example of internal control that meets SOX requirements. COSO describes developing accounting internal control procedures as a key control activity.
Sox Compliance Checklist
Your download will include: internal controls in accounting, sarbanes oxley compliance procedures, sarbanes oxley compliance checklist, controls for embezzlement, risk assessment, risk management, SSAE-16 compliance, and more.
Financial Accounting Policies and Procedures Now
The CFO series includes five manuals that are based on standard accounting practices. The thoroughly researched financial policies and procedures are written by experienced technical writers, reviewed by accounting experts, and are delivered in a professional format. Together, they will help you address the key areas of concern within a financial compliance framework like Sarbanes Oxley.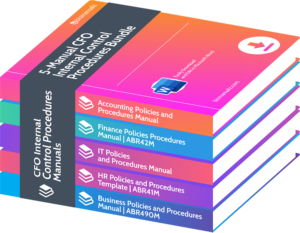 The following five policy manuals are included:
With your purchase of the CFO Series, you will get a wealth of CFO financial policies and procedures template as easily editable MS Word files that are instantly available via download. You can easily edit, change, and adapt the financial procedures to meet your specific requirements, operational needs, and the unique circumstances of your organization.
"At first, I was skeptical when originally ordering the accounting policies & procedures based on prior purchasing experience of similar types of literature. When I received the manuals, I was very impressed with the detail and vast coverage of the topic.
My superiors were impressed with the immediate results. Given the fast paced environment we live in today and the various responsibilities management is held accountable for, these manuals provide a convenient means of establishing very detailed processes within a fraction of the time it would take to perform from scratch.
Thank you Bizmanualz, Inc. for making some of my daily responsibilities less hectic."
Dan Gugliotta, Controller – NE Region
Spring Air Partners
View Free CFO Procedure Samples
Download free sample internal control procedures from each of the five manuals in the CFO Financial Accounting Policies and Procedures Manual. You will also get the table of contents from each manual. Or, if you are ready to buy now, you can place your order using our secure server and you'll be able to download immediately. With our money-back guarantee, your purchase is risk-free!