Medical Office Policies Procedures Manual Template Word

Running a medical office can be a daunting task, especially when it comes to managing policies and procedures. That's why we've created the Medical Office Policies Procedures Manual Template Word, a comprehensive guide that will help you streamline your office's operations and ensure compliance with industry regulations.
This template is designed to be easy to use and customizable to fit the unique needs of your medical office. It includes a wide range of policies and procedures, from patient intake and scheduling to billing and coding. Each section is clearly labeled and organized for easy reference, and the template is fully editable so you can make changes as needed.
With the Medical Office Policies Procedures Manual Template Word, you'll be able to:
Ensure compliance with industry regulations
Streamline office operations
Reduce errors and improve patient care
Train new employees quickly and efficiently
Customize policies and procedures to fit your office's unique needs
Whether you're a small practice or a large medical center, the Medical Office Policies Procedures Manual Template Word is an essential tool for managing your office's policies and procedures. With this template, you'll be able to focus on what really matters – providing high-quality care to your patients.
Medical Office Policies Procedures Manual
Introducing the comprehensive Medical Office Policies and Procedures Manual, your all-in-one solution for establishing a well-organized and efficient medical office. Developed by industry experts and tailored specifically for healthcare professionals, this manual provides a comprehensive collection of policies and procedures to streamline operations, enhance patient care, and ensure compliance with regulatory requirements.
Develop your Medical Office Policies Procedures Manual quickly and easily using editable Word templates. This DOWNLOAD is an excellent add-on to the Bizmanualz Business Policies and Procedures Sampler. It includes prewritten MS-WORD Medical Office Policies and Procedures Manual Template with forms templates for any medical office manager. DOWNLOAD Yours Now.
Instant Medical Office Policy and Procedures
This Medical Office Policies and Procedures Manual Template was developed to assist medical office managers in preparing a Medical Office Standard Operating Procedures (SOP) Manual for your small to medium size medical practice. It can be custom tailored to fit your front office staff and operations.
The content also supplements Bizmanualz core SOP business procedures manuals for Accounting or Human Resources.
Key Medical Office Policy Features:
Extensive Policy Coverage: This Doctor's office manual covers a wide range of policies essential for medical office management, including administrative policies, patient care guidelines, emergency response protocols, infection control measures, and employee health and safety procedures.
Customizable Templates: Our medical office manual includes editable templates that can be easily customized to match the unique needs of your medical office. Save time and effort by tailoring policies and procedures to reflect your office's specific practices and workflows.
Regulatory Compliance: Stay up-to-date with the latest healthcare industry standards and regulations. Our manual is designed to align with key regulations, including OSHA, HIPAA, and CDC guidelines, ensuring your medical office maintains a culture of compliance.
User-Friendly Format: The medical practice manual's clear and organized format makes it easy to navigate, locate specific policies, and access essential information swiftly. Each policy is presented concisely, providing practical guidance for implementation.
Employee Health and Safety: Prioritize the well-being of your medical office staff with policies that promote workplace safety and support employee health. Our manual provides guidelines for immunizations, illness reporting, and safe work practices.
Medical Office Policy Benefits:
Efficient Workflow: With clearly defined policies and procedures, your medical office can operate more efficiently, reducing redundancies and ensuring consistent practices.
Enhanced Patient Care: Standardized procedures and protocols contribute to improved patient care and safety, building trust with your patients.
Risk Mitigation: By adhering to healthcare industry best practices and regulations, your medical office can minimize risks and liabilities.
Confidence in Compliance: Stay confident knowing that your Physician's office is compliant with applicable laws and regulations, providing peace of mind for both office staff and patients.
Take control of your medical office's success with the Medical Office Policies and Procedures Manual. Unlock the potential for excellence in patient care, operational efficiency, and regulatory compliance. Order now and experience the transformation in your medical office's performance.
Medical Office Manual Table of Contents
Download a Medical Office Policy and Procedure Manual for Your Medical Practice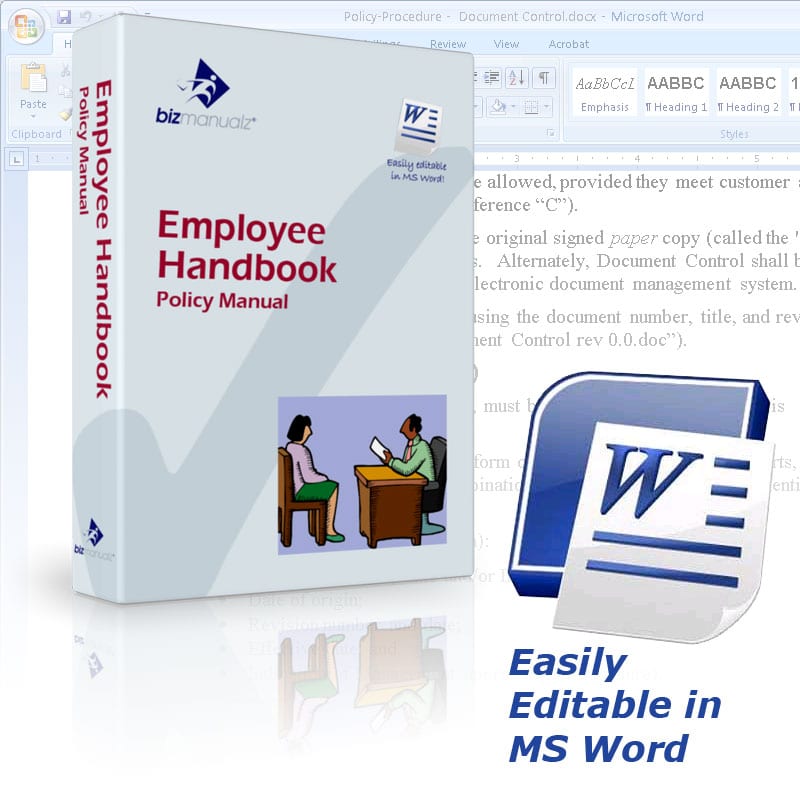 Improve all aspects of your medical office policy & procedures, including new patients, billing, staff, vendors and supplies. Save time using prewritten Word Templates.
Your Medical Office Manual Includes
1 Medical Office Employee Handbook
Your Medical Office Employee Handbook contains your medical practice policies to your employees. It is your practice's way of informing employees of company expectations, privacy practices, workplace guidelines, and the fair and equitable treatment of all employees.
Your Employee Handbook covers all aspects related to workplace employment, benefits, and everyday employee code of conduct.
9 Medical Office Policies and Procedures
9 Medical Office Forms
9 Medical Practice Job Descriptions
1 Medical Office Organization Chart
The Medical Practice Organization Chart is developed in MS-Word and can be easily edited to reflect your physician office practices, job functions, and governance reporting structure.
Download a Free Medical Office Policy Procedure Sample
Examine for yourself a free sample from the medical office policy manual. Then…
Order Your Medical Office Policies and Procedures
The Medical Office Policies and Procedures Manual Template comes with ten easy-to-edit Microsoft Word document template files, available as a convenient downloadable file. Take advantage of this special package and start saving yourself the time and money to develop this material. DOWNLOAD Yours Now.