---
Save up to 35%!
CFO Accounting Procedures Series
Buy the five-manual series:
- Accounting/Bookkeeping
- Finance/Treasury Management
- Human Resources/Payroll
- IT/Asset Management
- Business Sampler
Whether you are managing your financial processes, building financial internal controls or trying to improve your fiscal performance, financial policies and procedures templates from Bizmanualz make the process much simpler and easier. Easily editable in Microsoft Word and instantly downloadable, these prewritten procedures can help you quickly and effectively implement strong financial internal controls.
The Finance Policies and Procedures Manual from Bizmanualz comes with 36 prewritten procedures, 58 forms, a sample CFO's manual, and a free Small Business Management Guide. Altogether, you get over 590 pages of content written by knowledgeable technical writers and reviewed by experienced CPA's.
Financial Policies and Procedures for Compliance and Control
Both the Securities and Exchange Commission (SEC) and the Public Company Accounting Oversight Board (PCAOB) clearly recognize policies and procedures as key elements of financial control. The Finance Policies and Procedures Manual is based on Generally Accepted Accounting Principles (GAAP) as well as standard best practices, and help you comply with regulatory requirements, standards, and guidelines.
Because of their generic and broad nature, the prewritten templates can be implemented by organizations of any size or kind.
Best Practices Manual at Your Fingertips
It is not easy to write financial procedures from scratch. You can spend countless hours on research, writing, editing and review and yet fall short on all the requisite elements. The Financial Procedures templates from Bizmanualz are thoroughly researched and are based on commonly recognized best practices. Why start from scratch when skilled finance professionals have already done the work for you?
The Finance Policies and Procedures are organized into five categories:
These procedures cover key accounting and financial topics like capital planning, capital structure, asset and inventory control, financial reporting, and financial analysis.
You will also get a free Small Business Management Guide that talks about planning, starting, managing and exiting a business.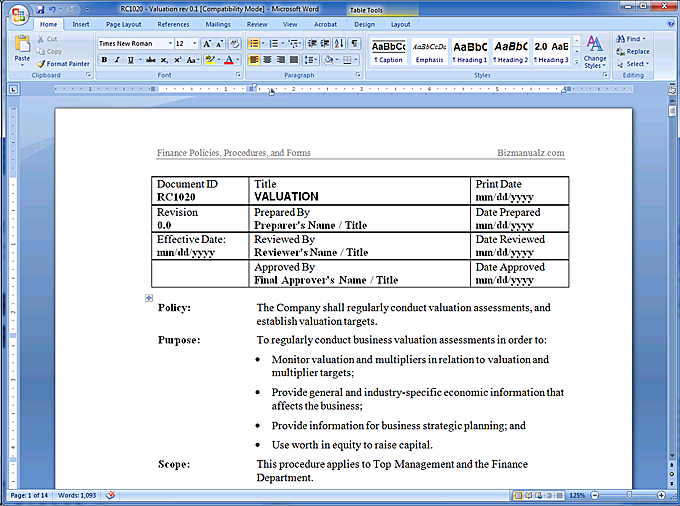 Free Sample Financial Procedure
Download a free procedure from the finance manual right now with no obligation. You will get the entire table of contents and one actual policy and procedure set from the manual. Or, if you are ready to buy now, place your order using our secure server and you'll be able to download immediately. With our money-back guarantee, your purchase is risk-free!